MSc. Tom Junker, Erasmus University Rotterdam. Academic researcher and Ph.D. candidate at the Center of Excellence for Positive Organizational Psychology.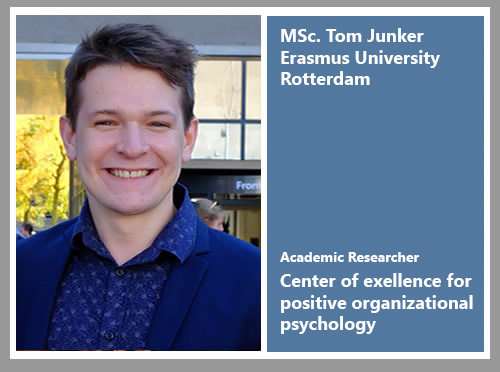 Ongoing:
Proactive behavior in agile teams: In this project I investigate how the use of agile work practices in teams enables a context where team members can engage in proactive behaviors (e.g., job crafting, intrapreneurship, taking charge, voice behavior). Status: Data collection ongoing.
Dealing with economic threat due to COVID-19: This project concerns the question when economic threat leads to proactive "fight" behavior vs. destructive "flight" behavior in organizations. Status: Data collection finished – manuscript in writing.
Predicting the scholarly impact of former Ph.D. candidates: The goal of this research is to examine the longitudinal relationships between personality characteristics and scholarly impact (e.g., citation rates, h-indices, publication records)of former Dutch Ph.D. candidates. Status: Data analyses finished – manuscript in writing.
Finished:
A career needs perspective on job crafting: In this project, we examined the longitudinal relationships between kaleidoscope career needs, job crafting, turnover intentions, and voluntary job changes in a sample of 575 Dutch civil servants. Status: Manuscript submitted.
Get in contact with me: emailme@tomjunker.de